BY SHABSIE SAPHIRSTEIN
Read the original story on Queens Jewish Link
We have all watched as the world has continually latched onto digital opportunities for ease of use, simplicity, and just because they are trendy. Margaret Tietz Nursing and Rehabilitation always seeks new ways to improve its facility and has since incorporated virtual technology into its therapy.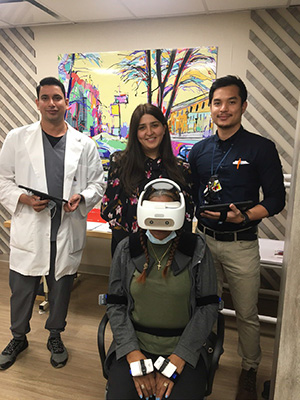 "We have a new immersive virtual system now available for our rehab population," stated Linda Spiegel, Director of Public Affairs. "We are the only facility to have such a system."
Once obtaining the devices, staff of the rehabilitation unit where the tech will be deployed were trained on how to best offer the new therapeutic modality.
Mazal Fuzailov, OTR/L, as the center's Rehab Director, is tasked with ensuring that the new technology is properly offered. "Now that our patients are learning of the virtual technology, they are expecting to use it. Moreover, they are very engaged with the devices and its world of possibilities." In the short time that Margaret Tietz has utilized The REAL, rehab staff has found the residents to be more confident at tasks like standing. "We have patients that previously could not stand up and are now once again able to stabilize themselves on both feet," communicated Fuzailov. For someone in a rehab setting, basic abilities like balancing, standing, and sitting often become a mission. "The REAL can be used in nearly all kinds of patients at our facility to assist with therapy at varied intensities. Its usage is not contingent on a diagnosis, rather to enhance in communications and improve the performance of fundamental skills."
If you have ever dealt with a patient requiring rehabilitation due to a previous fall, it is the phobia of once again collapsing that must be overcome. "The Real transforms patients and gives them the confidence to conquer this anxiety. The world of virtual reality is helping patients become empowered instead of stressed," added Fuzailov. "One case in point would be a patient who now goes out to our beautiful outdoor garden and initiates walking along the ramp."
To understand more, I spoke with a company representative who explained that the technology was specifically designed for rehab therapists to work with their patients. "The REAL Immersive System is an advanced technology by Penumbra that brings immersive therapeutic and wellness experiences to life using a customized virtual reality." It was described that TherapyView tracks the progress on a display screen on a tablet. Using the headset, and proprietary sensors, the REAL System transports a patient to a fun, positive, virtual environment where they are now able to engage in activities focused on motor learning, cognition, functional skills, and wellness."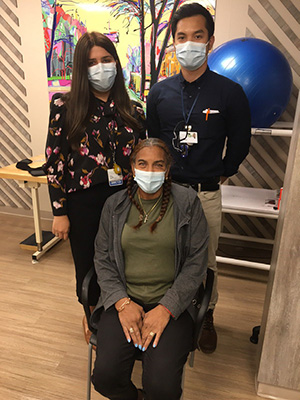 The technology uses activities that are created by leading rehabilitation experts and award-winning game developers to provide clinically focused yet fun and motivating experiences that includes motivational virtual rewards, including beating one's own goals. The REAL System has shown progress in stroke victims, Those with chronic back or neck pain, cognitive impairments, concussions, Multiple Sclerosis, orthopedic rehab, Parkinson's, and spinal cord injuries.
"Margaret Tietz has once again exemplified how we are a leader in community with innovative practices," noted Spiegel. "We are encouraged by the patients who have been thrust into a world where their minds can forget their pain and where our staff is able to track the data and monitor the progress like never before."